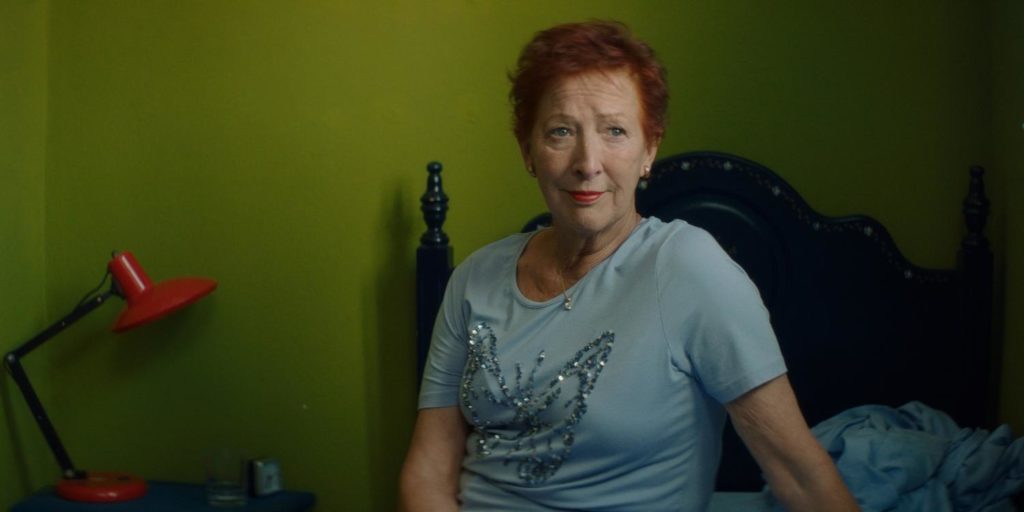 MI VIDA
'Is this all there is?' the 63-year-old Lou (Loes Luca), mother and grandmother, seems to wonder. Mi Vida is about Lou from Schiedam, who has always had her own hair salon, at the same time raising her children. Time for something new.  She is dreaming of starting a hair salon in Spain, but keeps this to herself. She follows a Spanish language course in Cádiz, Andalusia and becomes friends with her teacher Andrea (Elvira Mínguez).
The modest woman gradually seems to 'unfold', but how is she going to cope with the reaction of her children who are used to having a mum who is always available? They call their mother 'self-centered' and 'too old' for a new start in her life.  Film director Norbert ter Hall (&ME, De belofte van Pisa, A'dam-E.V.A.) calls Mi Vida a coming-of-age film. He says that we may think these films can only be about teenagers, but every new stage in life forces you to re-evaluate your life. Who am I? What do I want? Lou is re-inventing herself and her dreams seem to stem from old memories, having to do with her father, Spain, a lot of sunshine and fun, an easy atmosphere.
interviews
In a radio interview with Gijs Groenteman (Kunststof, NPO 1, 12 November 2019) Loes Luca chuckles over the outfits she was wearing in the beginning of the film: 'There is no room for vanity in this film. This is about normal people with normal problems and about a normal woman, dressed in ugly clothes and with an odd hairdo.' She adds that she felt like a 'Teletubby' in her tight T-shirt and shiny, quilted jacket, showing her fat rolls and love handles even more. 'I loved it, as it was all for a reason.' Later the same Lou looks entirely different, smiling a radiant smile and wearing a stunning, green dress.
Loes Luca adds remarks that it was a challenge for her to play a sorry person. 'It is fun to look for these parts in your own inner self'. Laughing out loud, she explains that Norbert, the film director, tempered her 'lovingly' as she is the very opposite of her character Lou. She found this challenging, so she agreed to play the part immediately after reading the script, written especially for her by Roos Ouwehand. She features in a film for the first time, having had minor roles in Ja zuster, nee zuster and Huisvrouwen bestaan niet. Other roles were played by the Spanish actress Elvira Mínguez and the Dutch actors Anniek Pheifer, Mark Kraan and Loïc Bellemans.
Lots of things went wrong for the director, Norbert ter Hall, whose dream became a nightmare when the Spanish actress Rossy de Palma suddenly had to withdraw. He had just landed in Sevilla after years of preparation for this film. Only two weeks to go! In Het Parool (Monday, 18 November 2019) he explains that he felt like a 'con man'. Although this had not been his mistake, he could not brush off this sense of embarrassment. Finally, he found Elvira Mínguez who had a role in Todos lo Saben (with Penélope Cruz and Javier Bardem). Two weeks afterwards they could finally start shooting the film. Norbert ter Hall comments: 'I want to tell stories that push the limits. First of all, those of the characters in the film, but eventually those of the audience, too. Stories make your world larger, more beautiful and intense.'
language
The dynamics between Loes and Elvira are magnificent. The subtle facial twitch and a slight stir of the lip tell us more than words. When they do talk, Andrea's eyebrows keep rising and her face seems to betray a mixture of annoyance and endearment. Sometimes she has to refrain herself from chuckling, when Lou flavours her Spanish and English carefully constructed sentences with a very Dutch accent and with Dutch expressions. When she reproaches her teacher Andrea for being 'angry de godganselijke dag', the Dutch audience bursts out laughing, also because of Andrea's eyebrows lifting  again and again. Both women wonder what to do with the rest of their lives. They are trying so hard. We cannot but feel empathetic. Don't we all struggle and stumble? In the midst of a serious talk about their predicament, Lou remarks: 'You have to think about the rest of it, hè', where she uses the  Dutch word 'hè' instead of the tag 'haven't you', which keeps giving the story a light tone. In the middle of a few of her remarks in Spanish, Lou suddenly exclaims 'jaaa nou jaaaa', the comical effect of which is reinforced every time, because we are aware that we understand her Dutch, but the puzzled Spaniards do not.
There is a lot of body language in the movie: the icy look that Andrea and Lou give each other  changes into a warm one, when they become friends. Lou's daughter Barbara (Anniek Pheifer), who reproaches her mother for not being there for her, tries to hide her coldness and insecurity. Lou tries to conceal her discomfort. At the same time, they both desperately want each other's love. This is all made tangible by a few shivering lips, sideway glances and furtive looks.

shadow and sunlight
Both Lou and Andrea live with the shadows of the past, but also with dreams that seem to be lost, but perhaps are not. When the two ladies get drunk in a karaoke bar, sing Sinatra's song 'this is my life' and hang in a porch, they are completely open about their dreams. They encourage each other to fulfill them. But how?
The sense of guilt is there, both about the past and the future. The children are pulling at Lou and she pours her heart out with Andrea: 'I often worry that I was not a good parent.' At the same time she realizes that she does not want to spend the rest of her life, taking care of everybody all the time as she has always done. It is her turn now, her life. Andrea challenges her to have what she wants for herself and Lou encourages her teacher to purchase her dream: writing. What will they choose? By the way, it is no co-incidence, of course, that one of Lou's young fellow-students has got Charles Dickens's novel, Great Expectations, under his arm.
All of this takes place in Cádiz, a bright, sunny and colourful setting, where everybody seems to turn up miraculously, when needed. The accidental man in the street turns out to be Andrea's father and Lou happens to meet the boy, named Pablo, again, completely out of the blue. Quite convenient for the plot, but okay, no big deal. This is a feel-good film about dreams, ambitions and courage, about life. Lou, in her best Spanish, remarks: 'Esta es mi vida.'
Het Parool, 24 February 2020: More than 100.000 people have seen Mi Vida, so the film has reached the Golden Film Status.  Norbert ter Hall remarks: 'We attributed this film to our mothers and 100.000 mothers have now joined them.'
title: Mi Vida
cast:  Loes Luca, Elvira Mínguez, Loïc Bellemans, Mark Kraan, Fermi Reixach, Jason Mba, Anniek Pheifer, Diewertje Dir, Ida Ogbamichael, Eugenia Verdu, Bella Agossou, Verónica Echegui
producer: Petra Goedings, Maaike Benschop
film director: Norbert ter Hall
script writer: Roos Ouwehand
year: 2019
genre: drama, comedy
run time: 88 minutes
languages: Dutch, Spanish, English
country: Spain
distributor: Paradiso Entertainment Nederland